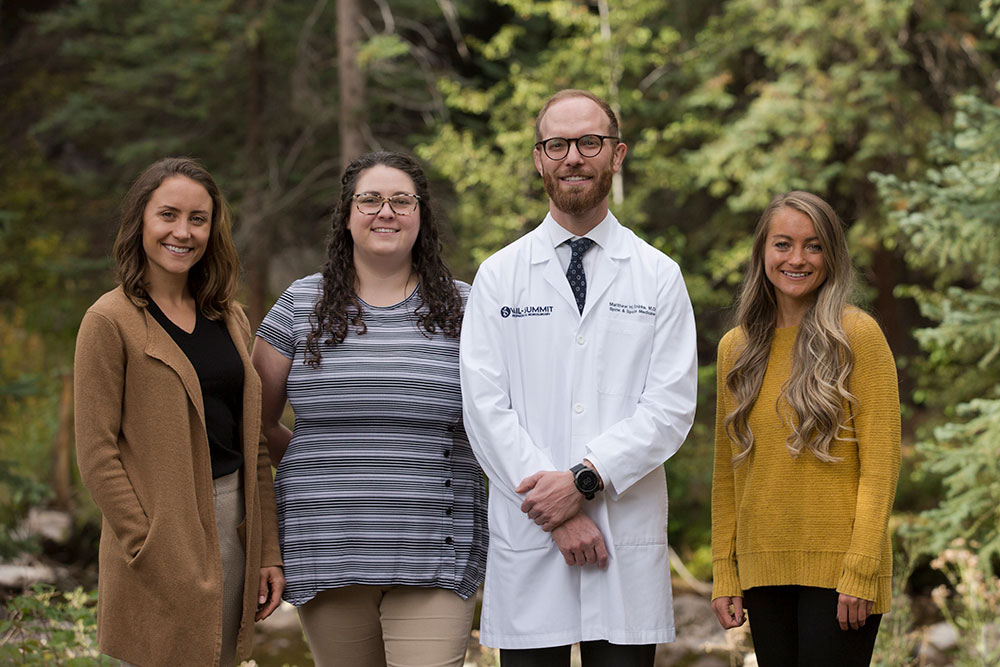 FOCUSING ON INTERVENTIONAL SPORTS MEDICINE, SPINE & REGENERATIVE MEDICINE
Dr. Gnirke and his team provide personalized care
Matthew Gnirke, MD is a Board Certified and Fellowship Trained Physiatrist at the Top-Rated Orthopaedic Group, Vail-Summit Orthopaedics & Neurosurgery (VSON). Serving Colorado's western slope, Dr. Gnirke's practice focuses on interventional sports, spine, and regenerative medicine. He is passionate about serving one of the most active demographics in the United States. From the local population to the many domestic and international visitors, Dr. Gnirke's focus is to get patients back to the activities they love.
Committed to specialized patient care, Dr. Gnirke and his talented care team are dedicated to returning patients back to their activities. His team provides the highest standard of care and compassion to each patient. Every patient receives the commitment, time, and attention required from both Dr. Gnirke and his team, to deliver a clear treatment path to ensure the best possible outcome.
For the athlete in each of us
Customized care for your orthopaedic needs
Dr. Gnirke's medical training and experience uniquely positions him to support patients with complex orthopaedic injuries, and chronic conditions. From elite world class mountain athletes experiencing overuse injury, to weekend warriors dealing with normal wear and tear injury, patients benefit from Dr. Gnirke's expertise. With his depth of medical training and experience, Dr. Gnirke provides a fully integrated treatment approach. Fellowship Trained in regenerative medicine, Dr. Gnirke has the experience to identify and apply innovative orthobiologic treatments including platelet rich plasma and bone marrow aspirate concentrate injections.
Dr. Gnirke utilizes these advanced treatment techniques to treat conditions such as:
Osteoarthritis
Meniscus tears
Rotator cuff injuries and degeneration
Tennis elbow
Degenerative Disc Disease
Greater trochanteric pain syndrome
Other ongoing orthopaedic challenges
Patients seeking a non-surgical, innovative treatment plan can benefit from Dr. Gnirke's expertise. He is passionate about helping patients achieve a new level of physical wellness. Learn more about Dr Gnirke and his highly specialized medical training, experience, and services.