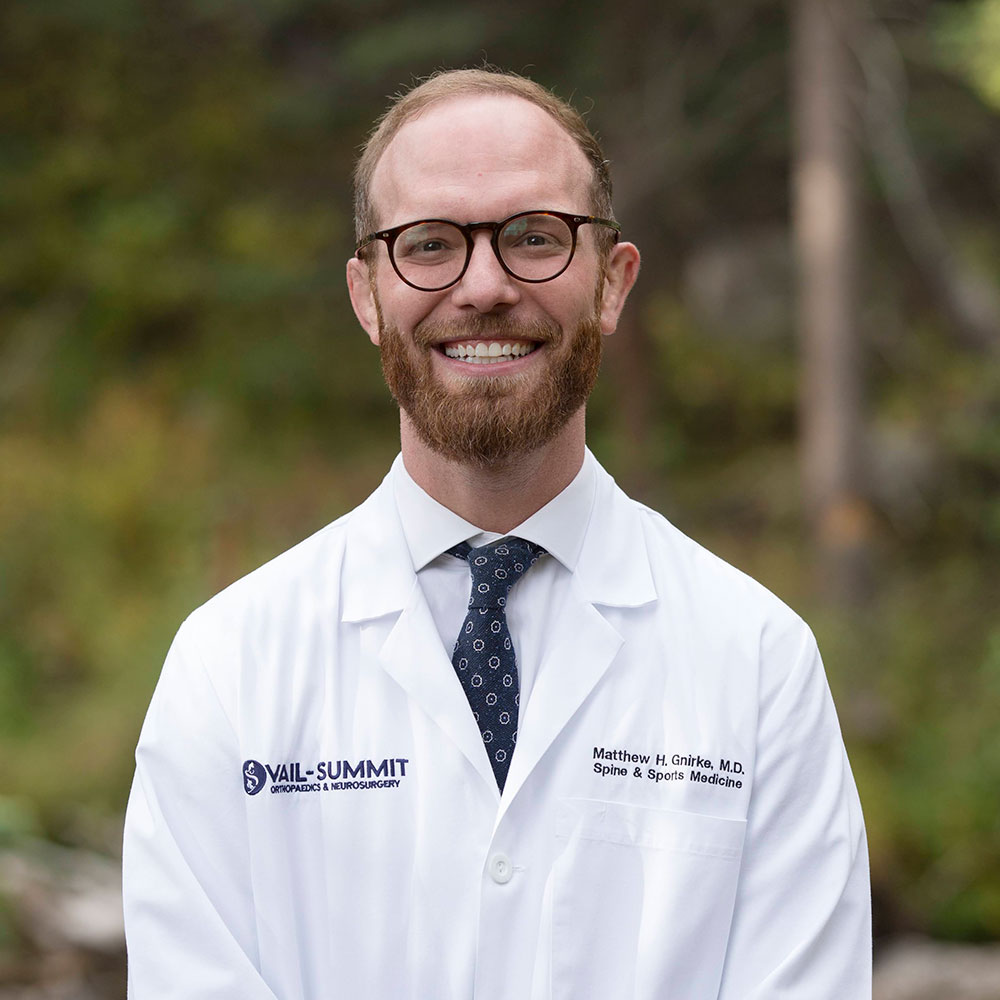 BOARD CERTIFIED & FELLOWSHIP TRAINED PHYSIATRIST AT VAIL-SUMMIT ORTHOPAEDICS & NERUOSURGERY
Matthew Gnirke, MD is a Board Certified and Fellowship trained physician at Vail-Summit Orthopaedic & Neurosurgery (VSON). His practice focuses on interventional sports, spine, and regenerative medicine. Dr. Gnirke has a depth of medical training and leadership, including:
Undergraduate Degree in Biological Sciences at Virginia Tech where he graduated Summa cum laude
Medical degree from Upstate Medical University, New York
Chief Residency at University of Colorado, Physical and Rehabilitation
Fellowship of Sports & Spine Medicine at The Bodor Clinic, California
Board Certification in Physical Rehabilitation Medicine
Dr. Gnirke's medical training and experience give him several modalities of expert medical care. These include:
Physiatrist
Sports Medicine
Interventional Spine Medicine
Regenerative Medicine
Dr. Gnirke's Personal Background
As a mountain sports enthusiast himself, Dr. Gnirke can be found on the winter slopes and summer trails of the Rockies – as well as in the sky above – as an avid skier, mountain biker, skydiver and wingsuit BASE jumper. A rockhound, he enjoys getting out in the field in search of unique minerals and gemstones to add to his collection.
As a lifelong athletic competitor, Dr. Gnirke understands the athletic mind-set. His competitive career started as a youth with the sport of wrestling and continued to adulthood. More recently, he has embraced the martial art of Brazilian Jiu Jitsu, training and competing at the amateur level. Since arriving in Colorado, he has also taken up mountain bike racing and has competed in and completed the Leadville 100 twice, with more to come. He has a comprehensive grasp of the importance of a well-conditioned body prepared for safe, effective competition.
Above all, Dr. Gnirke is passionate about providing highly effective medical care when needed, including precision diagnostics and a commensurate treatment, and rehabilitation plan intended to enhance optimal performance and keep you active in your sport and life.